Surpassing your expectations!
At Design Franc Art, the impossible is what motivates us. Our employees outdo themselves to provide our customers with exclusive, high quality product lines that include promotional and recognition items, products for the financial sector, industrial grade silicone products, and precision machining products. The Design Franc Art team has adapted its processes to fit market demands, creating highly desirable, sought-after items, always delivered on time. Our creative team is brimming with ideas for innovative products, and our production capacity continues to grow.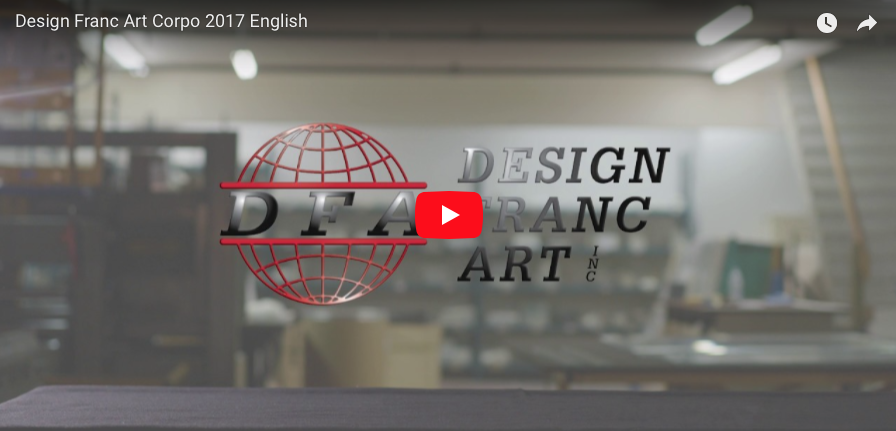 3xzQHxlHwfU
Design Franc Art, where your ideas come to life!
At Design Franc Art our word is our bond!
In January 1985, Francis Carrier owned a home décor business mostly overlooked by major distributors. He decided to launch his own company, creating custom designed acrylic bathroom accessories which were produced in the basement and then sold on the floor of the shop. Some of the more innovative and attractive quality items created an interesting market with great potential. In 1991, after a number of setbacks and ordeals including a flood, a move and two major fires, the company relocated to Saint-Martin de Beauce, the North American capital of the acrylic industry, to quickly become a major player in this sector. The company's growth is assured thanks to continuing product diversification and the arrival of Raynald Carrier and Jacques Poirier as shareholders. Mr. Carrier's and Mr. Poirier's knowledge and expertise in the industry compliment that of the company's president and founder, who is still in office today.
Through various partnerships, Design Franc Art furnishes distributors of promotional and recognition items in the United States, Canada and Europe, mostly. Creativity, state of the art technology, outstanding service, and facility to carry out varied and complex projects are what set this company apart from its competitors.
A true story of perseverance and success!
Dedicated to serving you
Keen, creative, talented, and avant-garde all describe the Design Franc Art team. Engineers, graphic designers, silkscreeners, customer service reps, programmers, machinists, and specialists in sanding, finishing and assembly are all dedicated to your satisfaction.
Our customer service and multidisciplinary teams work with you on your project, always keeping your objectives, costs and schedule in mind.

Design Franc Art, a family business that goes beyond generation! From left to right : Philippe Carrier, Pierre-Luc Carrier, Valerie Carrier and Francis Carrier, President and Founder.